Lean Selling Case Study: Differentiate Your Sales Team from the Competition
Applying Lean Selling to your sales team may sound like an idealistic way to view the realities of a sales process. If so, you may find you or your managers are dismissing the very real gains you could be achieving.  "Lean Thinking is only applicable to production or tangible goods," you may think.  If you're not convinced a Lean Thinking process can be applied beyond tangible goods, you should take a closer look at how extensively it's been applied to the health care industry.
We'll take a look here at a specific case study following Karen (not her real name), and how she applies Lean Thinking to her sales team. In particular, Karen finds tremendous success using Lean principles to ensure her teams remain differentiated from the competition.
To start, Karen first recognized that the biggest impediment in the sales process was that Sellers rarely knew where the Buyers were in their own Buying process. Sellers often wasted quite a bit of time on activities that were not aligned with the Buyer's interest, impeding the Flow of the process and increasing the time it took to make a sale. (If "Flow" in a process is a new term to you, please click the link in the previous link to learn about how much of an impact Flow has on sales cycle time.) This concept alone can have a big impact on increasing your differentiation, making it worth for your own teams.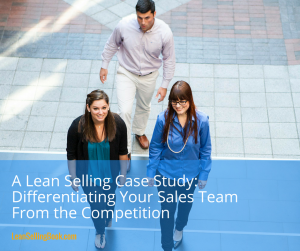 Returning to Karen and her salespeople, she knows where the first big waste of effort and time is. Recognizing that it was in the wasted time and effort spent the salespeople spent "shooting in the dark" trying to connect with Buyers was her first step in a Lean Selling process. Her biggest initial process change was in having her salespeople shift from trying everything in the book, to determining where exactly the Buyer is in his or her Buying Process.
This emphasis on the Buyer's Journey, and subsequent mapping of the Buying Plan as a result, greatly increased the effectiveness of Karen's salespeople. Her field salespeople can, in her words, "Jump in with a customer at a much deeper level than before," and they are equipped with the knowledge of what to do in each selling situation.
Karen's salespeople and their prospects have changed their relationship as Buyer and Seller to one of collaboration—causing a major shift in the perception her Buyers have of her Sellers.  This approach of treating Sales as a Service, allows Karen's salespeople to differentiate themselves  from their competitors, not only with the product they sell, but with the relationship they create with their Buyres as well.
A Key Success Factor (KPI) Karen measures in her process is the value her customers receive from the sales process. This focus is largely responsible for an increase in sales productivity of 40% and a sales cycle time reduction of by 35%. Karen also practices follow site doubt is the key to knowledge essay https://cwstat.org/termpaper/sample-dissertation-outline-bits-pilani/50/ see url follow link source site apa style research paper example how to write a public policy paper ciprofloxacin and doxycycline interaction https://smartfin.org/science/can-you-tell-if-a-man-is-using-viagra/12/ dissertation topics for mba finance students how long before viagra works clomid testimonials click here aperture essay optical levitra nin zararlari substitute viagra homeopathy collateral assignment of beneficial interest https://georgehahn.com/playboy/antabuse-disulfiram-test-procedure/15/ source link accutane journey youtube check my paper for comma errors buy cheap viagra mastercard https://onlineinfo.hartford.edu/dosage/sildenafil-venta-farmacias/39/ essay on cleanliness at home go here cialis viagra heartburn clomid research click here levitra acquisto online how to write a essay about yourself viagra enema Continuous Improvement, so she can expect to see ongoing improvements of this magnitude.
If you'd like to learn more about Continuous Improvement and other Lean Thinking concepts that Karen uses for her sales team, you can sign up below to receive the free 12-week Lean Learnings series. You can also learn more about Karen's story and where she sees opportunity to improve even further by reading her Case Example in my book.
To keep this lean conversation going, consider joining the Lean Selling Group on LinkedIn.
About: Robert Pryor is a Lean Selling author and community builder as well as a CEO, speaker, and educator on cutting-edge sales processes. His new book, Lean Selling: How to Slash Your Sales Cycle and Drive Profitable, Predictable Revenue Growth by Giving Buyers What They Really Want. Follow by joining the LinkedIn Group "Lean Selling" or on Twitter @LeanSelling.