Do You Still Need Salespeople?
It's safe to assume that if you have salespeople, it's for a reason. Your product or service may be great, but it can't sell itself.  Maybe your offerings are complex, maybe the Buyers need help to understand just how to use them, maybe there's technical or regulatory issues. There are numerous reasons a salesforce is a requirement for a company, even considering the impact the internet has had on where your Buyer will do research before ever speaking to you.
Despite everything you've heard or read about the internet causing salespeople to become obsolete, what's actually happening is that the role salespeople play is shifting. Nothing has really changed about the complex nature of your offering, has it? Your Buyers will still likely need help understanding the specifics of your product, or getting a handle on the customized offering you created for them. In that role, salespeople are even more important to the sales process than ever!
Rather than trying to eliminate salespeople as a part of the sales process, forward thinking companies are instead finding new ways for your salespeople to provide value to the Buyer. Where many companies go wrong isn't with the idea of increasing value; it's with where they think the Buyer sees the most value. Buyers don't necessarily care about gimmicks like giveaways, discounts, or even really the specific price point, at least not until they believe your product or service provides what they really require.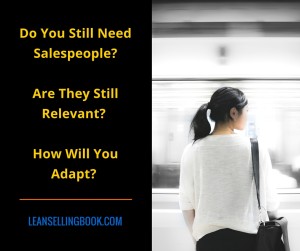 Buyers care about what they are spending in the 'transaction' of engaging with a salesperson.  To a Buyer, this interaction isn't free.  What a Buyer sees is an expense they may not be willing to make—spending their most precious commodity, time. Time is, after all, one of the few things that can never be replaced, no matter how much you're willing to spend for it.
With this in mind, one of the greatest values your salespeople can provide for Buyers is saving them time. Eliminating wasted time and easing the decision-making process are both excellent ways to improve the value you provide your Buyer and to make them more enthusiastic—yes, enthusiastic—about your sales process. A pleasant journey through your sales pipeline leads to a happier customer at the end of it—as well as a happier salesperson, while increasing the likelihood of repeat sales and referrals. We've talked about this in in a previous blog post, citing studies concluding that future customer loyalty hinges just as much on their satisfaction with the buying process as it does with the product or service that was purchased.
You can find your own creative ways to add these types of value to your own sales process, pointing your sales team in the direction of providing more value to their Buyers. Ultimately, salespeople are and will continue to be indispensable to the sales process. However, the focus of their efforts is what needs to shift for them to remain relevant.
Does adding more value for Buyers sound difficult to accomplish in your own sales organization? Contact me here if you want to chat about how you can do just that.
To keep this lean conversation going, consider joining the Lean Selling Group on LinkedIn.
About: Robert Pryor is a Lean Selling author and community builder as well as a CEO, speaker, and educator on cutting-edge sales processes. His new book is Lean Selling: How to Slash Your Sales Cycle and Drive Profitable, Predictable Revenue Growth by Giving Buyers What They Really Want. Follow by joining the LinkedIn Group "Lean Selling" or on Twitter @LeanSelling.