A Three Part Series
From the Seller's Point-of-View
There are always two primary perspectives of the sales process: that of the Seller, and that of the Buyer. Each of these participants in the sales process has his or her own needs and wants, and each one has what he or she feels is a unique goal. To develop a truly scalable sales strategy, you need to look into the sales process from at least these two views.
We will begin with the how the process looks from the Seller's viewpoint. To illustrate this, we follow the twists and turn of the entire journey from the vantage point of one salesperson we call Mike. We begin at the start of the Seller's process when Jim first receives a lead.
Mike, who is an outside salesperson, learns from a member of his inside sales team that there's interest at a company called Better Upscale Yarns (BUY) for what his company, Software Enhanced Logic (SEL), provides. After a considerable amount of phone outreach, Mike finally gets a call back from Jim.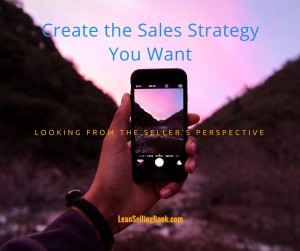 Now Mike is moving into the second step of the process.  He's starting a discussion with Jim to determine how strong his interest is in what SEL offers. Mike asks questions about the company's goals and the problems they are trying to solve.  This helps him get a sign of how likely Jim is make a decision about buying their software.
Worried about meeting his quota this month, Mike doesn't want to waste his time with Jim if he isn't likely to make a quick decision to buy. Mike can't make a determination about this until he gets more information from Jim, but Jim rarely answers calls or returns the multiple messages Mike leaves him. For several weeks, Mike isn't even sure Jim's the guy who can make the purchasing decision. Mike feels uncomfortable being entirely at Jim's mercy when it comes to determining if BUY is truly a qualified lead.
Eventually, Mike does get Jim to commit that the final buying decision rests with him. He's learned enough about BUY to determine that BUY has a strong requirement for the type of software SEL provides. It's taken Mike longer than he'd like to get to this point in the process, but he believes that he really didn't have a choice. He's still spending a lot of time trying to get other leads into his pipeline, but now that Jim has confirmed that he can make the purchasing decision, Mike feels Jim is qualified. Mike mentally moves him out of the qualification stage, and focuses more effort on him than his other leads.
The next step in the process is for Mike to move Jim forward in his decision process with sales development activities. He's sure these will increase Jim's interest and desire in SEL's software. Mike finds out that while Jim has the final say in the decision, he still has to justify the purchase to other departments in his organization.
Because of everyone's busy schedules, Mike spends an entire week getting everyone at BUY to agree on a meeting time. In spite of considerable grumblings from Jim's coworkers, he keeps the meeting upbeat and on-point. He feels he knocked it out of the park, proving just how relevant his software is to the problems BUY faces. Despite this, it seems like he has to repeat the demonstration of what the software does to nearly everyone in the company. No one ever seems any closer to giving him an answer to how they feel about making a purchase decision. He makes efforts every other day to touch base and hopefully get a status update.  Mike is hoping that his being so diligent will keep him top of mind when they finally decide to make a purchase. In addition to calling often, he takes Jim out to dinner a few times, where Jim consistently tells him how much he loves the product. He also reassures Mike that they're sure to make a decision any day now.
Mike feels it's now time to move to the next step in the process, the close.  After all the effort he has invested so far, it seems like it should be a cinch to get Jim to make a quick decision, so he can meet quota. Mike is sure that everyone at BUY is ready to buy the software from him, but he feels like they are evasive when he asks directly.
By the time Jim agrees that they're ready to buy, Mike's not only missed his quota, but they're in a new quarter. Now Jim has to submit a formal request to get the budget re-approved, and now Mike's in hot water with his manager. Mike keeps in touch, but by the time Jim gets budget approval, one of Mike's competitors, Better Software Products (BSP), swoops in and steals the deal. Mike loses out.
The final step in the sales process is now in the hands of BSP—they ensure that the delivery and installation of the software meets BUY's expectations.  While not required to be directly responsible for this part of the process, the Sellers at BSP don't get quota credit until the software is installed and running smoothly, making them motivated to stay involved.
Does this simplified version of the sales process sound like the one you or your sales team goes through every day? From Mike's perspective, the Seller is heavily dependent on the Buyer. However, what the Seller is attempting to do is largely isolated from what the Buyer is doing. It's easy to see that at each step, there was information required from both Jim and Mike. Mike required Jim's input to make a decision as to where in the process Jim belongs, and when it was time to move Jim from one step to the next. Each process step has an input, and each step has an output.
Despite Mike's efforts, BSP managed to get the deal. Where did he go wrong?  To try and find the answer, next time we will look at the sales process from Jim's perspective.
To keep this lean conversation going, consider joining the Lean Selling Group on LinkedIn.
About: Robert Pryor is a Lean Selling author and community builder as well as a CEO, speaker, and educator on cutting-edge sales processes. His new book is Lean Selling: How to Slash Your Sales Cycle and Drive Profitable, Predictable Revenue Growth by Giving Buyers What They Really Want. Follow by joining the LinkedIn Group "Lean Selling" or on Twitter @LeanSelling.