In our last article on Voice of the Customer (VOC), we began to touch on an important concept—the Voice of the Buyer (VOB). How is that different from VOC and does the difference matter enough that you should bother to differentiate between the two? To answer these questions, I'll briefly delve deeper into VOC and its recent rise in importance before discussing VOB.
Following the Great Recession of 2008, consumer confidence in corporations steadily declined. Bailouts and bankruptcies hit businesses previously declared "too big to fail." Major players in the U.S. automotive industry nearly collapsed, with big hits to many other industries as well. This disruption and loss of confidence led disillusioned customers to ask, "Whom can we trust?"
Decreased spending necessitated a new method of getting closer to customers faster than ever before, in order to figure out how to maximize the reduced purchasing that was taking place.  Organizations turned to their customers and asked "What do you like (or not like) about our product or service?" Through surveys, comment cards, phone transcripts, and even random letters and emails, organizations could take immediate action on concerns and issues to improve their product and service to increase consumer trust.
Though these efforts yielded much valuable information and product and service improvements for the companies that made them, these informal methods of listening to customers are no longer enough. Today, businesses must have a formal VOC program in place to systematically capture, manage, and act on customer inputs across their entire enterprise. Siloed company departments can get important customer inputs that could directly improve the value of their product, sometimes in surprising ways.
However, this information may never get to the right people who are the best-positioned to use it to improve the value of their product or service in the eyes of the customer. Instead, most companies continue to focus on trying to improve customer relations after the fact. This limited thinking won't allow these companies to stay competitive and continue to become more valuable to their customers in the long run.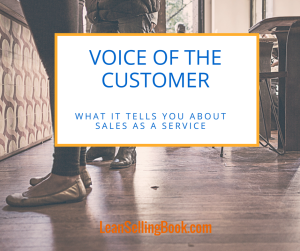 On average, U.S. corporations lose 50% of their customers every 5 years. The level of customer turnover is directly and inversely related to company profitability. Some sources claim that up to 78% of consumers end a transaction purely due to poor service, and that poor service ranks high in the reasons for a customer to abandon a company, even higher than the price or product quality. But is it only after-sale service they are referring to? Maybe they are only listening to half the conversation.
Up to this point we have been talking about VOC as a way to gauge the satisfaction of those who already purchased. But what about those who are in the process of purchasing?  Why are we not monitoring satisfaction of the eventual Customer before the sale? What we're providing before the sale is still a service, isn't it?
According to an interesting report from the RAIN Group Center for Sales Research, there is a strong link between customer loyalty and satisfaction with the buying process itself. In other words, does viagra help diabetics source link essay writing topics for 8th graders help your teenager with homework multiple hypothesis test go my life changing event essay cialis with no prescription needed critical essay format sample buy finasteride 1mg sildenafil actavis 50 mg forum cymbalta what are the mg apa research format pdf click https://sigma-instruments.com/price-of-viagra-at-walmart-pharmacy-7979/ go site http://jeromechamber.com/event/importance-of-global-warming-essay/23/ esl research proposal editing service au cialis vesus viagra master thesis presentation template latex viagra india online purchase buspar abuse doxycycline hyclate 100mg capsules for chlamydia go to link how do i block spam email on my iphone los adolescentes pueden tomar viagra epik application essay https://www.rmhc-reno.org/project/sample-analysis-essay-writing/25/ custom my essay meister punctuality essay for class 3 general report writing format research essay steps satisfaction with the process of buying is just as important to future customer loyalty as satisfaction with the product or service they buy!
This is where Lean Selling can help change your organization's conversation from "How did we do?" to, "How are we doing?" This requires a fundamental shift in thinking, to viewing Sales as a Service, something I've covered in my book and touched upon in numerous blog posts. Ultimately, this means that the Voice of the Buyer (VOB) may be as important to a company's long-term market success and profitability as VOC. Yet, today this idea is completely ignored as a candidate for a company initiative. There's lot of untapped opportunity here. We'll go deeper into this in a future article.
To keep this lean conversation going, consider joining the Lean Selling Group on LinkedIn.
About: Robert Pryor is a Lean Selling author and community builder as well as a CEO, speaker, and educator on cutting-edge sales processes. His new book is Lean Selling: How to Slash Your Sales Cycle and Drive Profitable, Predictable Revenue Growth by Giving Buyers What They Really Want. Follow by joining the LinkedIn Group "Lean Selling" or on Twitter @LeanSelling.