Defining and Identifying Value
Value seems like a simple enough idea: value is the good things we provide for customers. When applied to Lean Selling, value is the primary reason sales organizations exist. According to Lean Thinking, value is not defined by the Seller. The customer creates and defines value: positive and negative.
Negative Value: the cost of acquisition which includes money, hassle, and wasted time.
The first goal in any Lean transformation is to increase the positive value provided to the customer while reducing negative value for both the customer and organization. Therefore, defining value within your organization is essential, and seems like it should be easy enough.
Complete this sentence: My organization provides value by: ______________________.
Simple, right?  Now finish this sentence: My organization provides value to the customer by: ____________________.
How hard was it to finish the second sentence? Do you think you did it in a clear, concise way? How do you think your customer would feel about what you wrote?
In a survey of sales professionals by Qvidian, the inability to effectively communicate value to the customer was one of the top three reasons listed for missing sales quotas. Lack of a definable value from the outside looking in, that is, from a customer's perspective, sends salespeople down a path of wasted time and "No Decision."
Generally, the issue of poorly-defined value is not an immediate threat to sales quotas as long as the customer continues to believe there is inherent value in what your company provides. The Buyer is engaging with you and your company because you have something they want.
This implies that your product or service has value, even if the value is poorly defined. However, as market conditions and competition change, poorly-defined value may not be good enough. The marketing and sales process will have to be improved, and lack of company-wide agreement on the definition of value will be the first barrier to improvement.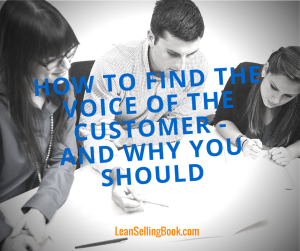 Agreeing on a single, clear definition of an organization's purpose—the value it provides from customer's perspective—supplies the necessary momentum to break out of organizational inertia and paralysis. Creating a single, adaptable definition that can be communicated to the sales team changes the way salespeople communicate with their Buyers.
Once the definition of value is established, every product, marketing, and sales decision on future direction can be made by asking one simple question:
"Would making this proposed change add more value from our customers' perspectives?"
Before the definition of value is decided upon, it is imperative that your organization listen to the customer's point of view about the topic. There is no downside to asking a Buyer directly what the value is that they believe you offer to them. Responses to this question can uncover value you did not see before, and it can also eliminate focus on a perceived value that is actually not a customer benefit. This practice is sometimes referred to as Voice of the Customer (VOC), and it is an integral part of a Lean transformation.
There's more to it than just the VOC, though. There's another aspect of this that is more focused on value provided by the selling process in particular. That's the Voice of the Buyer (VOB), an element of the selling process that is largely ignored, but is a primary driver of pipeline productivity. We'll dive into this vitally important concept of VOB in more depth in a future blog post.