Part 3
Here's the final installment of our three-part series on the three Big Ideas of Lean Selling.  This last one is a doozy: it requires a complete shift in the way we view the core relationship between Buyers and Sellers. This shift can profoundly affect how you view the sales process and what you're focused on as a salesperson. This Big Idea will help you decrease the number of "no decision" prospects, accelerate your pipeline, and turn your engagement experience with prospects into something significantly more predictable.
The third Big Idea of Lean Selling is to recognize that there is not really two independent "Buying" and "Selling" process processes that are loosely synchronized. In actuality, there is only one process, which Lean Selling calls the Buying-Selling Process. Indeed, a successful Buying-Selling Process will have the Seller and Buyer working together toward a single objective: to have the Buyer make a decision. Unfortunately, this is not what most salespeople are focused on, although they believe they are. In large part, a misplaced Seller focus is what leads to clogged sales pipelines, unpredictable close rates, and "No Decision" prospects in buying limbo. Most salespeople are expending their effort to persuade, cajole, or intimidate a Buyer into choosing them to be their selected provider. "What's wrong with this?" you ask.
This type of Selling behavior, which has been entrenched in sales mythology since the beginning of modern selling, yields as little as a 30% decision rate by Buyers. That's not 30% deciding to buy from you or your company. That's 30% deciding to buy anything from anybody. What about the other 70%? It's waste of all the time and effort invested in the Buyer. If salespeople instead focused solely on getting their prospects to buy something from anyone, they could double their sales with the same number of prospects. Using Lean Selling approaches, this type of improvement in productivity, or even greater, is not uncommon.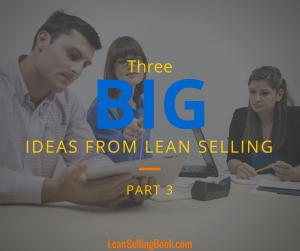 Why Does this Lean Selling idea Work? 
You can see how the third Big Idea of Lean Selling is really a shift in the way the salesperson begins to think about his or her engagement with a Buyer. It's not that you're trying to close more sales for yourself; you're putting all your efforts into helping your Buyer to make a decision—any decision—to buy something from somebody. The most interesting aspect of this is that by defocusing on trying to convince a Buyer to buy from you, you will actually close more business! As much as twice as much, based on experiences of salespeople that have made this shift.
Additionally, your buyer will view you as providing an extremely valuable "Buying" service, which is what they were hoping to get from engaging with you to begin with. This helps solidify you as a trusted source that is most qualified to help them address their issues and desires. It's easy to see how that can translate to more sales by itself. The benefit in terms of closing more business comes back to you when you start converting Buyers' No Decision into a Buying Decision.